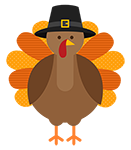 2019 BLACK FRIDAY SPECIALS START EARLY!
For ONE week only: 50% OFF ALL COURSES on www.uiece.com
What you need to know:
Coupon effective from: November 25 through December 2, 2019. Please use this coupon code in Step 1 of checkout: TURKEY

YOU MUST ENTER THE COUPON CODE TO RECEIVE THE DISCOUNT! If you don't enter the coupon code in checkout, the site will not give you the special price. No refunds will be issued.

There will be no phone support. For these low prices, phone support will not be offered. We will be closed November 28 through December 1. Courses completed over the holiday weekend will be submitted to the different states on Monday, December 2, 2019. We will close early on November 27th. There will be limited email support over the holiday weekend mail@uiece.com.

This sale does NOT include any state reporting fees if required or optional services.

Online course completions only. This does not include hard copies mailed out.

Some states require education be completed before you can renew your license. Please be aware of your state's rules and complete and pay for your CE early!
United Insurance Educators, Inc.